Timetable
In September 2017, the school is adopting a new timetable structure. The school day will commence 8.45am with assembly for all students. First class starts at 9.00am and school finishes at 3.45pm from Monday to Thursday; on Friday the school closes at 1.15pm. Each class is 40 minutes in duration and there is a break from 11.00am to 11.15am; with lunch running from 1.15pm to 1.45pm.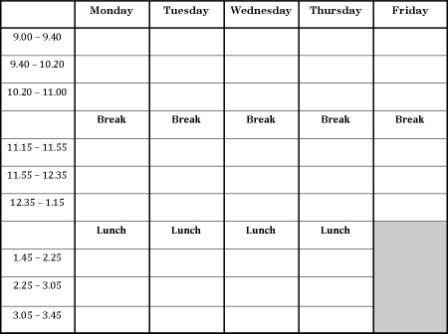 School Journal
Every student in the school must be in possession of a school journal. The journal is designed to:
Help organise homework on a daily basis.
Ensure constant communication between school and home.
Failure of students to comply with the study/homework demands of relevant teachers will be noted in the journal. It is important that parents examine the journal on a weekly basis to ensure that homework is being completed. The journal also contains the school`s code of discipline in the form of student rules and classroom rules. A copy of the school rules must be signed by parents at the beginning of each school year.
Parent-Teacher Meetings
Our school recognises the important role played by parents in their children`s education. All parent/teacher meetings are held from 4pm to 6.45pm to facilitate parents who have daily work commitments. Parents are encouraged to develop close links with the school. They are welcome to arrange visits to discuss their son`s/daughter`s progress or any matter relating to their welfare should the need arise. Progress reports other than Christmas and Summer (also Easter for State Exam students) are available on request.