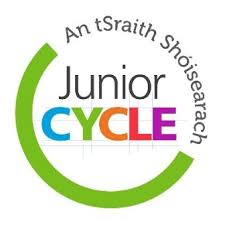 Junior Cycle subjects
Pupils take a total of Twelve subjects for Junior Cert examination from the list below. All students take English, Irish, Maths, Science, French, Geography, History & C.S.P.E..
They choose three subjects from the following group:-
Materials Technology Metal, Technical Graphics, Music, Art. Materials Technology Wood, Business Studies, Home Economics.
Religious Education is optional.
Every assistance is given by our teachers to help students match their subject choice with their particular talents. On enrolment nights, pupils will be asked to nominate their subject choices in order of preference. Every effort is made to give pupils their first choices but, in some cases, a child may get a second choice subject. Where more than twenty-four students request a position in a practical class, names will be drawn at random to fill that particular class.
---
The new Junior Cycle curriculum identifies 8 key skills which are required for successful learning across the curriculum and for learning beyond school. The new Junior Cycle began in Coola Post Primary in September 2014. Our students started the new Junior Cycle programme in English, Science and Business Studies; Irish, French, Art and Well-Being was introduced in September 2017. As of from September 2019 all First Year students are following the new Junior Cycle in all subjects. For parents wishing to find out more information about the new Junior Cycle programme please click here.
---
Here is a complete list of Junior Cycle subjects:
English
Geography
Art
Computers *
With the exception of Irish, English and Maths which are offered at Higher Level or Ordinary Level, all subjects are studied at a Common Level.
* Non exam subject